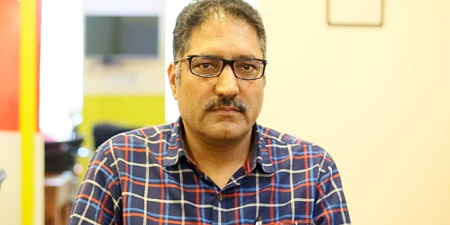 JournalismPakistan.com June 14, 2018


SRINAGAR - Veteran journalist and Rising Kashmir Editor Shujaat Bukhari and his two personal security officers (PSOs) were shot dead by terrorists outside the newspaper's office in Indian-held Kashmir on Thursday, police officials said.
Bukhari, 53, who had worked as the state correspondent for national daily The Hindu for several years, was shot dead soon after he boarded his car from his office located at Press Enclave in the heart of the city center - Lal Chowk.
"While Shujaat Bukhari was traveling in a car near Press Enclave, he was fired (upon) indiscriminately which resulted in the instant death of Bhukari and a PSO who was with him. The other PSO who was shifted to the hospital in critical condition has succumbed to his injury," the police said in a statement.
"Preliminary investigation...indicates this as a terror attack. Police are investigating the case and condemn this gruesome terror act," the statement said.
Bukhari is survived by his wife and one son and a daughter. - Agencies/Photo: Kashmir Observer