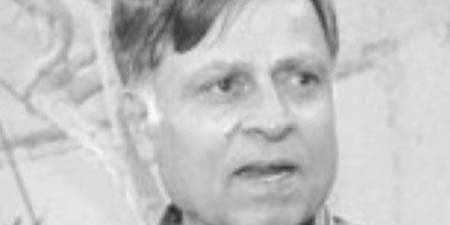 JournalismPakistan.com April 12, 2020


Pakistan Federal Union of Journalists (PFUJ) has expressed its deep sorrow and grief over the death of veteran journalist Ahfaz ur Rehman and announced three-day mourning across the country.
Rehman passed away in Karachi on Sunday after a prolonged illness. He had cancer and had been under treatment at the Aga Khan University (AKU) Hospital.
In a joint statement, PFUJ President Shahzada Zulfiqar and Secretary-General Nasir Zaidi paid rich tributes to the life-long struggle and sacrifices rendered by Rehman for press freedom in the country.
"Ahfazur Rehman was one of PFUJ's torch-bearers for the freedom of the press," the statement said. "He was always at the forefront of any movement launched by PFUJ against military rulers and oppressive regimes."
The PFUJ office-bearers said Rehman's struggle for freedom of expression would continue to be a guiding light for journalists.
During the three-day mourning, black flags will be hoisted at all press clubs, union offices as well as at places of work by journalists' unions.
The PFUJ leaders said Rehman's bold leadership and struggle for the rights of working journalists' since 1972 will always be remembered and continue to guide the PFUJ policies.
After his return from China, he was arrested and tortured during the oppressive regime of General Zia ul Haq, but he never surrendered and continued to raise his voice for freedom of press.
Even during the tenure of former military dictator Gen. Pervez Musharraf, Ahfaz remained at the forefront of the struggle when the ruler banned some TV channels.
"As president of PFUJ, Ahfaz ur Rehman constantly raised the issue of non-implementation of wage board award and challenged the owners and management of newspapers and media houses without any fear.
"With his death, we have lost a great trade unionist, a bold leader, a committed journalist, and above all, a man who had great personal integrity."
The statement said that Ahfaz worked to revitalize Karachi Press Club and always worked against those elements that at that time were bent upon de-politicizing the press club.
"We salute our former colleague and comrade Ahfaz ur Rehman's for his life-long struggle and that he will remain to live in the hearts of PFUJ members across the country," the statement said.