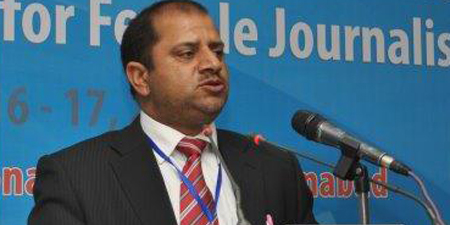 JournalismPakistan.com December 15, 2018


ISLAMABAD - Pakistan Federal Union of Journalists (PFUJ) has strongly condemned the retrenchment of over 500 employees by the Jang Group of Newspapers and demanded their immediate restoration.
"Sacking of over 500 employees in one go by Jang Group of Newspapers is against the labor laws and we will not accept such anti-labor practices," a joint statement issued by PFUJ President Afzal Butt (pictured) and Secretary General Ayub Jan Sarhandi said on Sunday.
The Jang Group on Sunday shut down its publications from Peshawar and Faisalabad besides closing down its Daily Aftab and eveningers Daily Awam and Daily News rendering more than 500 employees jobless.
No prior notice was given to the employees about the closure of these publications.
The PFUJ president and secretary general dismissed the claims of Jang Group that it was forced to shut down its publications only due to stoppage of official advertisements by the government.
"This excuse might be partially correct but we believe it is not the sole reason for the closure of these newspapers," the leaders said. "The Jang Group has earned billions of rupees during the few decades and is in a position to absorb such financial shocks as are being felt today by the media industry due to the anti-media government policies."
Butt and Sarhandi said that sacking more than 500 employees with a single stroke of pen speaks of the anti-labor attitude of the Jang Group.
The PFUJ has demanded a forensic audit of the Jang Group to ascertain the true facts.
The union also condemned the government for its anti-media policy which has prompted the media organizations to retrench staff on a large scale.
"This government had promised to provide jobs to the people but its policies so far are anti-labor and proving otherwise," the two leaders said.
The PFUJ also severely criticized the government for its attempts to muzzle the freedom of speech and expression in the country.
The union leaders said that PFUJ would soon consult all its affiliated unions to formulate a joint protest against the Jang Group.
"Till a final decision is made in this respect all the affiliated unions have been directed to hold protest demonstrations in their respective cities to show their solidarity with the sacked employees as well as to condemn the Jang Group.
"We assure the sacked workers that we will fight for their cause with full force and do everything possible to get them restored."
Photo: Afzal Butt (Facebook)