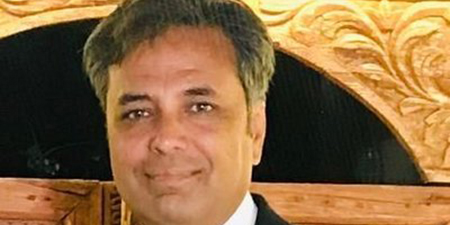 JournalismPakistan.com May 29, 2021


ISLAMABAD—Pakistan Federal Union of Journalists (PFUJ) has condemned the statements of Fawad Chaudhry, Federal Minister for Information and Broadcasting, regarding senior journalist Syed Talat Hussain (pictured) and attacks on media persons.
President of the union, Shahzada Zulfiqar, and Secretary-General Nasir Zaidi said Hussain is a well-reputed journalist who commands immense respect among the fraternity.
"His objectivity in journalism has been praised by political parties and the government circles alike. He has been an editor of a newspaper, the senior-most columnist, and a widely watched TV anchor with millions of readers and viewers. It is highly disappointing to see a sitting minister declaring that Talat Hussain is not a journalist at all," the union leaders said.
They also took exception to Chaudhry's comments regarding the attacks on journalists. "This is a highly irresponsible statement that has dented the reputation of the current government besides reflecting the lack of seriousness on the part of the government in preventing attacks on media persons. If the government ministers themselves describe such attacks as usual, then who will protect media persons," PFUJ asked.
The two leaders demanded of the federal minister to tender an apology over his highly objectionable statements.
Photo: Twitter (@TalatHussain12)