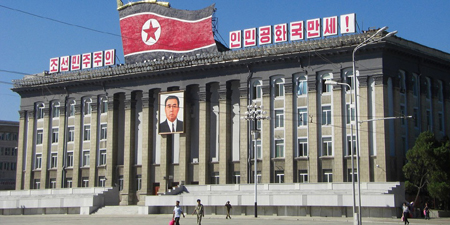 JournalismPakistan.com August 31, 2017


SEOUL - A North Korean court sentenced two South Korean journalists and their publishers to death for "seriously insulting the dignity" of the country by reviewing and interviewing the British authors of a book about life in the North, its state media said on Thursday.
North Korea has previously issued harshly worded accusations against South Korean entities and individuals for allegedly violating its dignity, by slandering its leadership and its political system.
The book in English titled "North Korea Confidential" was authored by James Pearson, a Seoul-based correspondent for Reuters, and Daniel Tudor, a former correspondent in South Korea for the Economist magazine.
The book, based on interviews with North Korean defectors, diplomats and traders, depicts a growing market economy where ordinary North Koreans enjoy access to South Korea music and TV dramas, fashion and smuggled Chinese and American films. Pearson wrote the book, published in 2015, before joining Reuters.
The Korean-language edition, published earlier this month with the title translated as "Capitalist Republic of Korea", was reviewed by South Korea's Dong-A Ilbo and Chosun Ilbo newspapers.
A spokesman for the North's Central Court said in a statement carried by the country's official KCNA news agency that the book "viciously slandered the reality of the DPRK", the initials for North Korea's official name of the Democratic People's Republic of Korea. The book painted life in the country as increasingly capitalistic where money can buy power and influence, the spokesman said.
The South Korean journalists who reviewed the book "committed a hideous crime of seriously insulting the dignity of the DPRK with the use of dishonest contents" carried by "North Korea Confidential", the court spokesman said.
The Central Court has ordered the execution of the journalists, Son Hyo-rim of the Dong-A Ilbo and Yang Ji-ho of the Chosun Ilbo, and the publishers of the newspapers. It also demanded the South Korean government investigate their crimes and punish them, the state media said.
The court statement did not make any mention of punishment for the book's authors.
A Dong-A Ilbo representative said the newspaper declined to comment and its reporter Son did not immediately respond to a request for comment. Chosun Ilbo reporter Yang declined to comment while a newspaper representative could not be immediately reached for comment. Tudor, the co-author of the book, declined to comment.
A Reuters spokeswoman declined to comment.
"Dong-A Ilbo, Chosun Ilbo, and other conservative media in South Korea have so far committed smear campaign against the DPRK nonstop," KCNA quoted the court as saying. "The criminals hold no right to appeal and the execution will be carried out any moment and at any place without going through any additional procedures." - Reuters