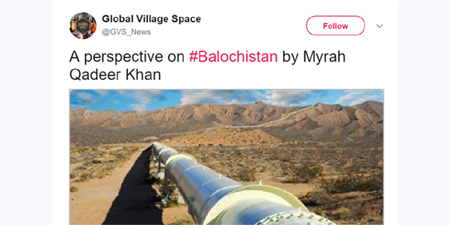 JournalismPakistan.com July 27, 2017


ISLAMABAD - An article titled Balochistan's Under-reported Poverty, originally published in The News on Sunday was plagiarized by Global Village Space, an anonymously run web portal.
Global Village Space is a newly-established portal which shares comment pieces on different issues about Pakistan. It contains no information on who runs it but sources say it's managed by a team led by Pakistani anchorperson Moeed Pirzada.
The article about Balochistan's under-reported poverty was written by Quetta-based journalist Adnan Aamir after weeks of research. This article proved through facts and figures that the province is losing Rs28 billion in NFC award annually due to manipulation of poverty figures.
A couple of days ago, half of another article published on Global Village Space under the title "Balochistan: A Province Stripped Of its Due Share" was plagiarized. The article originally appeared in The News on Sunday on May 28.
Author of the plagiarized article Myra Qadeer Khan is an MPhil and a lecturer, according to the introduction on the website.
Once the issue of plagiarism was brought up by the author on Twitter, other journalists also jumped in and criticized Global Village Space for intellectual dishonesty.
Within an hour, Global Village Space took down the article from its site and claimed that since all articles are sent in email body therefore, it's not possible for the organization to check them for plagiarism.