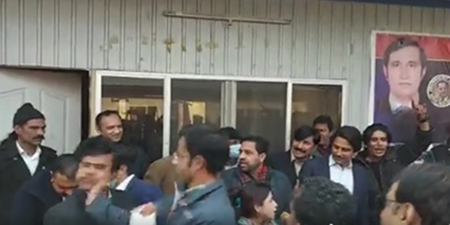 JournalismPakistan.com February 03, 2022 Cherie Conela



ISLAMABAD—A demonstration by a group of journalists to protest alleged rigging in the recent elections of the National Press Club has turned into a scuffle between journalists, according to several posts and video clips viral on social media.
Journalists are seen attacking and abusing each other and throwing punches.
"Tension was there for the last several days, but it intensified since yesterday, and today it has reached its limit," a member of NPC commented.
Shehzad Gardazai, an NPC member, took to Twitter, sharing a video where the Azad Journalist Panel is protesting against alleged rigging. In the video, Sadia Kamal, a candidate for secretary from the Azad Journalist Panel, is chanting slogans. The elected President of Press Club Anwar Raza is also seen when some protesters attack him and abuse him physically.
However, in a tweet, Shakeel Qarar of the Azad Journalist Panel claimed that the opponents attacked the peaceful protest of his panel and used abusive language.
"When they [protestors] saw that he [President NPC Anwar Raza] was not getting angry or arguing, one of them, with a team having mobile cameras, stepped forward and slapped the president," Myra Imran, the elected vice president, stated on her Facebook wall.
Another journalist Jalaluddin Mughal, while sharing photos of wounded members of the press club, stated that many journalists had been injured during the clash. "Since this is a domestic dispute, it has nothing to do with freedom of the press," he stated sarcastically.
Many other journalists condemned the incident and urged unity among the ranks.