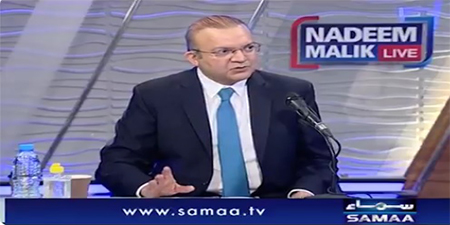 JournalismPakistan.com July 06, 2021


ISLAMABAD—Samaa TV anchor Nadeem Malik, in response of a notice issued by FIA's counter-terrorism wing, has decided not to appear before the agency.
He said that he "will not appear before the FIA. I am in my office. Catch me here," he tweeted.
FIA had sent the notice over Malik's remarks on Arshad Malik's case during his show, Live with Nadeem Malik, that aired on April 28, 2021.
Malik was asked to appear at the FIA's headquarters on July 6 with "all relevant information, documents, and evidence."
Lahore Press Club termed the notice an attack on freedom of the press, while the Rawalpindi-Islamabad Union of Journalists condemned it and demanded the withdrawal of the notice.
Murtaza Solangi, a former director-general of state-run Radio Pakistan and Executive Editor Naya Daur Media, asked Islamabad High Court Chief Justice Athar Minallah to take suo moto notice of the incident and summon the FIA officials for their "continued and consistent harassment of journalists."
Absar Alam, a former PEMRA chairman, termed the notice 'bogus' and said that except for Dawn News, almost all independent-minded anchors, who have been journalists since the 90's, have been wiped out of the mainstream media. "It was becoming difficult to tolerate Nadeem Malik," he tweeted.
Legal experts have also termed the notice as "regrettable and condemnable," emphasizing that, "A journalist has the legal and moral right to keep his/her sources secret."
According to the notice dated July 2, the FIA has summoned the anchorperson under Section 160 of the Criminal Procedure Code. "Please refer to your 'Nadeem Malik Live Programme' on Samaa News dated April 28, 2021, [that] revealed that you have important information which can be relevant for the agency to further investigate the above mentioned case and to link some relevant persons with this case," said the notice.