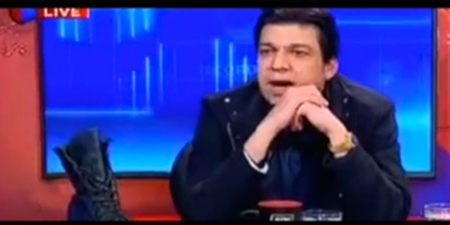 JournalismPakistan.com January 15, 2020


ISLAMABAD—Journalists took to Twitter to condemn Federal Minister for Water Resources Faisal Vawda, for bringing and showing a military boot in the talk show Off the Record on ARY News to criticize the main opposition party Pakistan Muslim League-Nawaz (PML-N).
During the program hosted by Kashif Abbasi, the minister showed the boot and criticized PML-N for going back on its narrative of 'Vote ko izzat do' as the party backed the bill on the extension of services chiefs.
Senator Javed Abbasi of PML-N and Qamar Zaman Kaira of Pakistan Peoples Party, the other two participants of the talk show, left in protest over the antics of the minister.
Syed Talat Hussain, a former Geo journalist, expressed his anger. "PM Imran's cabinet minister brings an army boot in a tv show, displays it on the table, keeps it next to him throughout to prove that everyone in the parliament including the opposition fell at army's feet in order to please them. Havent seen a more lowly act on tv recently."
Caricaturist Sabir Nazar termed Vawda an "Urdu speaking Sheikh Rashid".
Cyril Almeida, formerly of Dawn thought Kashif Abbasi's show had become a platform for military propaganda. "As a regular watcher over the years, have watched sadly as Kashif's show has slipped into overt military propaganda... all the regular guests, including Zubair, Kaira, etc, have also gradually adjusted to the roles required of them on air.. today was an inevitable consequence…"
Novelist Muhammad Hanif was, however, interested if the military boot said anything. "Sorry I missed the action. Did the boot say anything?"
Columnist Haroon Rashid was angry with the talk show host for allowing such a silly thing to happen. "Why the TV channel and senior anchor allowed Faisal phada bring the shoe into the studio? Seems it was a pre-planned stint to gain cheap popularity and defame national institution #bootintalkshow"
Mubashir Zaidi simply asked "Et tu BOOTUS."
Murtaza Solangi, a former head of Radio Pakistan, thought the minister showed disrespect to media. "Besides other things, #FaisalVawda desecrated the respect and dignity of news media. @Kashifabbasiary should have announced a sudden break, removed the boot and should have thrown Vawda out of the studio rather than creating a situation where Kaira and Abbasi had to leave."