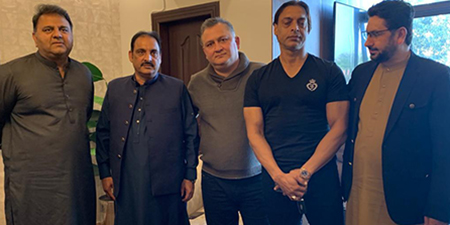 JournalismPakistan.com November 13, 2021


ISLAMABAD—Federal Minister for Information and Broadcasting Fawad Chaudhry, in his tweet, announced that he had settled the dispute between former cricketer Shoaib Akhtar and PTV anchor Dr. Nauman Niaz.
Sharing a selfie with Shoaib and Niaz on social media, the minister said that the matter was not so big, but the social media portrayed it so big. "All is well that ends well," he tweeted.
In a video clip currently viral on social media, Nauman publicly apologized to Shoaib, saying, "Shoaib Akhtar, I am extremely sorry for whatever happened on screen. It shouldn't have happened, for the reason that [we] have a 30-year-long friendship, and that shouldn't go down."
Akhtar, who also appeared in the video, responded: "It's fine. He (Niaz) said it, he said it. He should have said it a long time ago."
The video ends with Niaz saying, "It's never too late" and patting Akhtar on the back.
Later, Akhtar also confirmed his reconciliation with Niaz on Twitter.
"It was an unpleasant incident on national television and it had hurt my sentiments [and] that's why it took me a while. Taking a higher moral ground, I am accepting the apology of Dr Nauman Niaz. Lets move on from this," he tweeted, referring to his spat with Niaz.
Photo: Twitter (@GhaffarDawnNews)