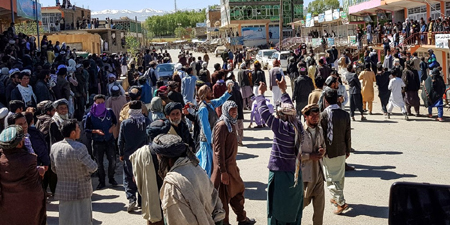 JournalismPakistan.com May 11, 2020


Ahmad Khan Nawid, a host of Voice of Ghor Radio, was shot and killed in Firozkoh, Ghor province, Afghanistan, in police crossfire on May 9.
The International Federation of Journalists (IFJ) and its affiliate, the Afghan Independent Journalists' Association (AIJA) are deeply concerned over Nawid's death and urge the government investigate the excessive use of force by police.
Volunteer radio presenter at Voice of Ghor Radio, Ahmad Khan Nawid, 19, was shot during a clash between police and protestors over the unfair distribution of food aid in the Ghor province.
Nawid was only passing by on his way to work, approximately 5 km away from his office, when the bullet struck the back of his head, killing him instantly.
The Afghanistan Independent Human Rights Commission has been overwhelmed by numerous complaints of unfair distribution of food aid. The Ghor province has been in dire need of assistance after COVID-19 restrictions have resulted in job losses and rising food prices, disproportionally impacting the province with an estimated 50 percent of the population living below the poverty line. Police have denied allegations of unfair aid distribution.
While Executive Editor of Ghor Radio, Bismillah Adel, blames Afghan forces for Nawid's death, police have attempted to shift the blame to the protestors.
Amrullah Saleh, Afghanistan's vice-president, apologized for the incident and mismanagement of relief food. A spokesperson from the Ministry of Interior said on May 9, a delegation has been sent from Kabul to investigate the incident. At least six people were killed and at least nine injured in the clashes.
AIJA said: "We call on the Afghan government to conduct impartial investigation on the killing of all civilians, including the journalist and punish the guilty."
IFJ General Secretary, Anthony Bellanger, said: "Whether a journalist is killed in crossfire or in a targeted attack, Afghanistan continues to be one of the world's most unsafe places for journalists. The IFJ express solidarity with Nawid's family, friends and colleagues and hope that a transparent investigation will get to the bottom of this devastating incident."—IFJ media release/Photo: AFP