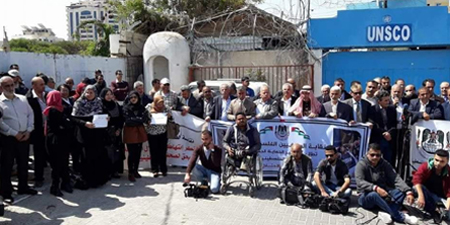 JournalismPakistan.com April 09, 2018


BRUSSELS - The International Federation of Journalists (IFJ) joined its affiliate, the Palestinian Journalists' Syndicate (PJS), in condemning the killing of Palestinian photojournalist Yasir Murtaja and the wounding of at least seven more journalists in Gaza.
The IFJ has also demanded the Israeli army conduct an open and transparent investigation into the attacks.
Murtaja, 31, who was working for the Gaza-based news agency Ain Media, was killed on 6 April in the east of Gaza from wounds sustained by an Israeli sniper while covering the March of Return rally.
"We join our affiliate and Palestinian colleagues who have been unlawfully targeted for simply doing their job," said IFJ General Secretary, Anthony Bellanger. "The IFJ strongly condemns this inadmissible targeting of journalists and press freedom in Gaza by the Israeli forces and we demand that the Israeli army conduct an open and transparent investigation. Failing to do so will make the Israeli government complicit in the targeted killing of journalists while doing their job, which is considered a war crime under international laws¨.
In a statement, the PJS confirmed that they will pursue action against Murtaja's murderers in the international forums and courts and that they will intensify their efforts to bring the murderers of Palestinian journalists to international justice. The PJS also called on the UN and all its bodies' to act immediately and to implement its decisions, specifically the International Security Council's decision no. 2222, and to take concrete steps to provide immediate protection to Palestinian journalists on the ground.
In 2017, the PJS recorded 909 media violations in West Bank and Gaza, 37% more than the previous year. The media violations included the closure of media offices and production companies, financial penalties, websites being blocked and journalists´ being arrested and physically attacked. According to the PJS report, 81% of these media violations (740) were committed by Israeli forces while 19% (169) were attributed to Palestinian authorities. – IFJ media release/Photo: PJS