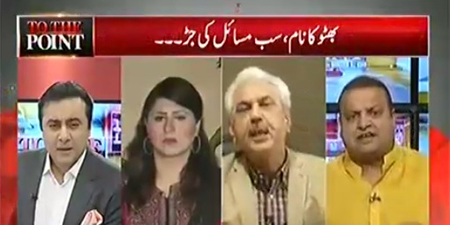 JournalismPakistan.com April 01, 2019


ISLAMABAD - ARY News analyst Arif Hameed Bhatti and columnist Ammar Masood were involved in a shouting match during a talk show on Express News TV as both traded barbs on their support for political parties.
Masood maintained that journalists who supported Pakistan Tehreek-e-Insaf (PTI) were now blaming it for incompetence. He added that such journalists and analysts were equally responsible for the economic situation that Pakistan faces.
This comment infuriated Bhatti. He questioned Masood's journalistic credentials. He pointed out that if the PTI government was not delivering, why should he be blamed.
However, Masood maintained that those backing PTI were equally criminal and liable to be punished.
Bhatti shot back angrily, alleging that Masood takes monetary benefits from the opposition Pakistan Muslim League-Nawaz and the former Prime Minister Nawaz Sharif.
Commenting on the shouting match, journalist Hasan Zaidi asked on Twitter: "Arif Hameed Bhatti asks Ammar Masood what his credibility is to teach him journalism. Waisay, what exactly is Arif Bhatti's credibility."
Columnist Ejaz Haider also jumped in. Replying to Zaidi, he said: "Shahji!! It's called Bhatti credibility! It's self-referential credibility. Aik tau app ko 'kakh' ka pata nahin ooper see tweetain kartay hain credibility ke hawalay se!"
Not to be left behind, journalist Matiullah Jan also criticized Bhatti. In a tweet in Urdu, he maintained that by shouting, he had exposed his upbringing and education.
He backed the assertion that Bhatti along with other journalists deceived the people and they were not regretting their role in getting PTI into the power corridor.