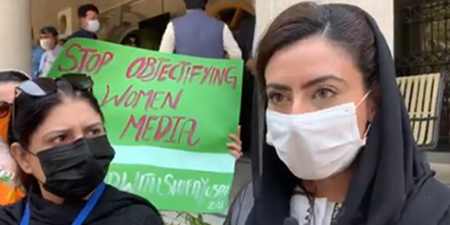 JournalismPakistan.com June 03, 2021


ISLAMABAD—The Islamabad High Court (IHC), in response to a complaint filed by Hum News presenter Shiffa Yousafazi, has asked the Federal Investigation Agency (FIA) to initiate an investigation against journalist and YouTuber Asad Ali Toor.
Toor is accused of posting a series of defamatory videos on his YouTube channel against many women journalists, including Shiffa, host of a morning show.
Talking to the media outside the IHC, Shiffa vowed to fight against such elements involved in character assassination and trolling women on social media. According to her, she has decided to take a stand for all women of Pakistan. "Nobody has the right to question the character of any woman."
"I have appeared before the court as a Pakistani woman, but I also belong to a respectable family of Khyber Pakhtunkhwa. For us, protecting respect and honor is paramount."
She said many people asked her not to pursue the case. "Such characterless, shameless people when they have no argument, they start vilifying your character."
In her complaint, she said Toor recently uploaded three videos, one after the other, wherein he made fabricated allegations against her based on frivolous grounds, weak assumptions, and mala-fide intentions. She also shared the web links to all three videos and the transcripts supporting her written complaint.
She further said that the defamatory remarks do not in any way correspond with the existing ground realities and are indeed ill-founded and being propounded with the mala-fide intention of maligning her name and reputation.
IHC Chief Justice Athar Minallah asked the FIA to proceed on the complaints filed under the Prevention of Electronic Crime Act.
Another complaint against Toor in the Islamabad High Court was submitted by a citizen Fayyaz Mehmood Raja. The complainant pointed out that he was annoyed by the campaign run by Toor against the national institutions.
The chief justice made it clear that the court has never stopped FIA from investigations but had suspended the earlier notice issued to Toor due to lack of proper procedure.
The court adjourned the hearing till June 30. Toor also appeared before the court on Wednesday.