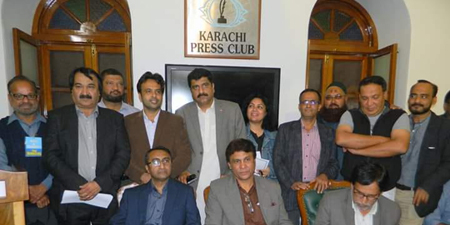 JournalismPakistan.com December 30, 2018


KARACHI – The Democrats Panel continued its win streak making a clean sweep of Karachi Press club elections – Muhammad Imtiaz Faran elected the president and Arman Sabir the general-secretary.
The panel claimed 12 seats by significant margins securing another year-long term and making it nine wins in a row.
In the elections on Saturday, Faran polled 671 votes, beating his opposite number Ahmad Khan Malik of Progressive Panel who got 530 votes for the position of president.
Sabir secured 925 votes for the slot of general-secretary crushing his rival Shahid Abbas Jatoi who managed to get only 254 votes.
Saeed Sarbazi became the vice president scoring a thumping win, polling 894 votes against Shahid Iqbal's 264.
Raja Kamran of Democrats Panel with 876 votes took the position of finance secretary, his opponent Niaz Ali Khokhar content with only 233.
The slot of joint secretary also went to the Democrats, Muhammad Hanif Akbar polling 882 votes against Progressive Panel's Muhammad Yousuf Ghazali who had 293 votes.
The Democrats Panel won all seven seats on the governing body. The winning candidates were Khursheed Abbasi (892 votes), Shazia Hassan (855), Abdul Waheed Rajpar (825), Abul Hassan (835), Ashraf Bhatti (804), A. Rahman (826), and Shoaib Jatt (779).
Dr. Tauseef Ahmed Khan, Chairman of the Election Committee announced the results.
Out of 1582 members eligible to cast their votes, 1210 exercised their right.