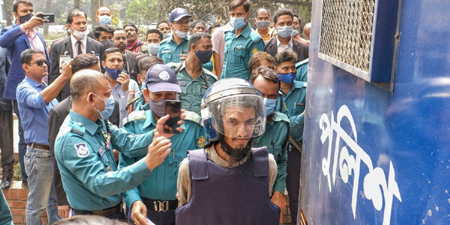 JournalismPakistan.com February 17, 2021


NEW YORK—In response to a Bangladesh court's sentencing on Tuesday of five people to death for their involvement in the 2015 murder of blogger Avijit Roy, and another to life in prison, the Committee to Protect Journalists issued the following statement:
"We welcome the guilty verdicts against those involved in the brutal 2015 murder of blogger Avijit Roy. Impunity has long perpetuated a cycle of violence and fear in Bangladesh," said Aliya Iftikhar, CPJ's senior Asia researcher. "However, we do not support the death penalty and urge Bangladesh to hand down humane sentences to these defendants on their appeals."
The court sentenced Syed Mohammad Ziaul Haque, Akram Hossain, Abu Siddique Sohel, Mozammel Hossain, and Arafat Rahman to death by hanging, and Shafiur Rahman Farabi to life imprisonment, according to news reports. The six defendants were all members of the banned militant outfit Ansar al-Islam, and killed Roy for being a "secular writer," according to those reports.
Haque and Akram are in hiding and were sentenced in absentia, while the others are in custody, according to the BBC, which stated that lawyers for the defendants plan to appeal the verdict. Earlier this month, the five sentenced to death in Roy's case were also sentenced to death for the 2015 killing of Roy's publisher Faisal Arefin Dipan, according to those news reports.
Roy was a writer who criticized religious fundamentalism on his blog, Mukto-Mona (Free Mind); he was stabbed to death while leaving a book fair in Dhaka in 2015, according to CPJ research.—A CPJ statement/Photo: AP