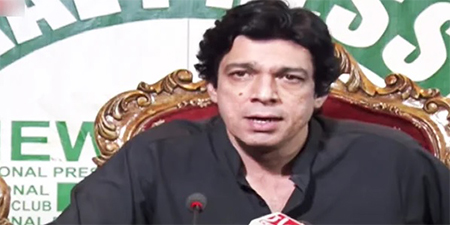 JournalismPakistan.com October 27, 2022


ISLAMABAD—The conspiracy to murder veteran journalist Arshad Sharif was hatched in Pakistan, claimed PTI leader Faisal Vawda in a press conference at the National Press Club Islamabad.
Vawda said that he had been in touch with the journalist since Sharif's departure from the country. According to him, no proof will be discovered on Sharif's mobile phone or laptop since all evidence of the crime has been erased. He pledged to expose the truth about his murder.
Vawda claimed that Sharif was shot from inside the car or at close range. The journalist was shot twice, not twenty times in the head and chest.
He continued saying that "conspiracy began when FIRs (first information reports) were lodges against Arshad Sharif."
The PTI leader said that the conspirators scared the journalist and compelled him to flee the country. He subsequently arrived in Dubai and reported that an establishment or unnamed institution exerted pressure to have him expelled, but this is a lie.
"I have made a video and have given names of those people. I have given those names internationally. I have given millions of dollars. I have a clear message; if I am shot and killed then you'll be killed too."
Vawda reiterated that the establishment had no part in this murder. "In the coming days, I will uncover all the curtains."