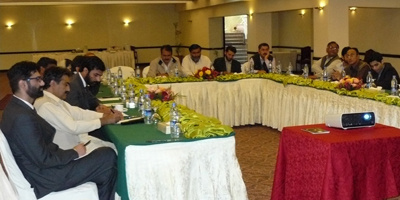 JournalismPakistan.com March 13, 2013
PESHAWAR: Radio can play a tremendous role in creating mass awareness in rural areas and radio activities need to be enhanced in the Federally Administrated Tribal Areas (FATA) though keeping in view the cultural and traditional values of the region.
This was agreed upon in a one-day consultative stakeholders' workshop to discuss and review the relevance of project activities and community needs of FATA and Khyber Pakhtunkhwa on Wednesday under the auspicious of Equal Access and USAID on the theme "Kadam pa Kadam and Peace Karvan."
Those who shared their views included Layaq Zada, Regional Director Radio Pakistan; Zahoor Khan, Chief Coordinator WWP; representatives of FATA Secretariat and others. The welcome remarks were given by Noor-ul-Bashar Naveed, an anchor, script writer and intellectual.
Project "Kadam pa Kadam and Peace Karvan" is a twelve-month, innovative media project complemented by community engagement activities that will support civil society, enhance communications outreach and develop new voices in FATA and KP. The project encompasses the development of creative and credible broadcast content in local Pashto dialect, coupled with implementation of youth educational and recreational activities.
The project aims to expand media outreach to understand Pakistani populations by providing effective behavior change/ educational radio programming in Pashto dialects at the provincial and district levels; to increase community engagement via theatrical, musical, and recreational activities implemented in tandem with radio messaging to promote local dialogue and foster development of new Pakistani voices.
The media consultant of the Directorate of FATA said presently the directorate was running three radio stations, one each in Jamrud (Khyber Agency), Razmak and Miranshah (North Waziristan) with the support of FATA Institutional Strengthening Program (FISP) and Intermedia. He said a company policy was being devised for establishing broad-based radio stations for the people of FATA.