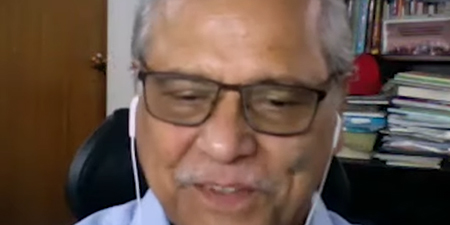 JournalismPakistan.com November 01, 2022


ISLAMABAD—Columnist Zahid Hussain (pictured) has asked the civil and military authorities to conduct an impartial and transparent inquiry into the killing of journalist Arshad Sharif, saying it has become an explosive political issue.
"The mystery surrounding the killing has reinforced conspiracy theories. Social media has been swarmed by posts directly accusing the military leadership of killing the journalist through 'hired assassins.' Widespread anti-military sentiments fueled by the fall of the Imran Khan government has made the situation extremely volatile," Hussain wrote in his article for Arab News.
He said though the Kenyan police termed the killing a case of mistaken identity, former Prime Minister Imran Khan and many other journalists claimed that "the slain journalist was the victim of a targeted killing."
Hussain added that the late journalist had become critical of "the military establishment since the fall of the Khan government in April this year. He fled to Dubai in August when an arrest warrant was issued against him. He told his friends that his life was under threat."
The columnist wrote that as public anger grew, the Pakistan government ordered an inquiry into the incident. "But it has failed to calm down public outrage."
Meanwhile, addressing a press conference, ISI Chief Lt. Gen. Nadeem Ahmed Anjum refuted the allegation that the agency was involved in the journalist's murder. He also lashed out at the former prime minister for maligning the military leadership.
Hussain termed the presser by the ISI chief as unprecedented. "It is apparent that the country's premier intelligence agency is feeling the heat with the growing public outrage over the journalist's murder."
However, the columnist felt that the ISI chief presser further "vitiated the political climate" instead of calming it down.
Maintaining that, as there are questions surrounding Sharif's death, he said, "Pakistani civil and military authorities are needed to act fast before it's too late."