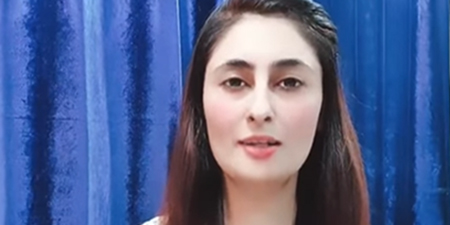 JournalismPakistan.com June 18, 2022 Cherie Conela



ISLAMABAD—Female YouTuber Zunaira Mahum has been criticized for promoting a sweet drink 'Jam-e-Shirin' during an exclusive interview of a young couple Dua Zehra and Zaheer. They made news headlines due to love marriage.
Anchor Mahum said, "the weather is too hot ...Dua has made sweet drinks for us. A glass for herself and a glass for me," asking, "Why no glass was made for Zaheer?" Dua responds, "I have already made Zaheer some, and he drank it earlier."
After a while, the anchor again starts talking about drinks. "Dua, you used to give me a cold drink; now it's "Jam-e-Shirin. Tell me, what is your favorite drink?"
Dua responded that she liked "Jam-e-Shirin very much."
Thus, the repeated references to Jam-e-Shirin during the interview gave the impression that the sweet drink company sponsored the YouTube show.
"It seems that not only this interview but also the wedding was sponsored by Jam e Shirin," a social media user commented. Some journalists also criticized the uncalled for references.
In response to the criticism and boycott campaign on Dua Zehra and Zaheer's interview, Qarshi, the company which produces Jam-e-Shirin expressed complete disassociation with the video interview.
The company's Facebook page stated: "Jam-e-Shirin is an internationally recognized, much-loved Pakistani brand available since over 40 years, with about 60 people out of 100 using it regularly in Pakistan. We have always conducted our media communications with dignity, upholding high moral standards. We were surprised at the prominent visibility of our brand during an interview on social media. We are investigating the issue and reassure our loyal consumers that we have nothing to do with the interview as its producers did not take permission for displaying and mentioning our product. Appropriate action will be taken in this regard."