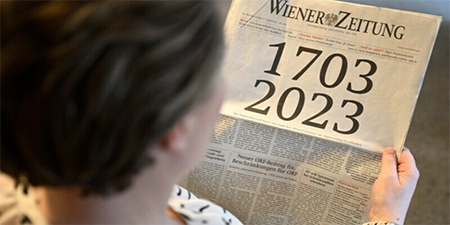 JournalismPakistan.com April 27, 2023


Austria's Wiener Zeitung, one of the world's oldest newspapers still in print, is set to make a significant shift towards digital media after the country's parliament decided on Thursday.
The government's move brings to a close a long-running disagreement with the state-owned newspaper over its future. The bi-weekly publication was established in 1703 as the Wiennerisches Diarium and later renamed Wiener Zeitung in 1780. Emperor Franz Joseph I of Austria nationalized it in 1857, making it the country's official gazette.
From July 1, a new law will primarily move the newspaper online. It will continue to produce at least ten print publications each year, depending on funding. The Wiener Zeitung's role as the official gazette will move to a separate state-owned online platform, in line with a European directive.
The newspaper will also establish a media hub, content agency, and training center for journalists. However, its vice managing editor, Mathias Ziegler, said that some people were concerned that the government just wants to retain the Wiener Zeitung brand, with its 320-year history, without knowing what the future publication will be like. The publication currently has a circulation of around 20,000 on weekdays and twice as much on weekends.