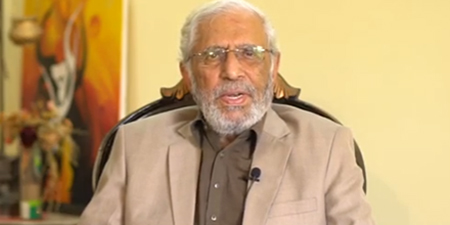 JournalismPakistan.com November 06, 2021


ISLAMABAD—Veteran journalist and former executive editor of The Express Tribune, M. Ziauddin, is in critical condition and has been put on a ventilator, his family said.
"Please Pray for my Nana. M. Ziauddin. He has been put on the ventilator. One of the last TRUE journalists in Pakistan," his grandson Asif Iqbal Faruqui tweeted.
He said: "... I cannot think of anyone who'll be able to fill his shoes. He is and will always be incorruptible. Prayers required."
Several mainstream journalists and TV presenters and his loyal followers took to Twitter to express good wishes and early and complete recovery.
"Our mentor, teacher, and senior M. Ziauddin is unwell. Please remember him in your prayers and wish him well," Murtaza Solangi, Executive Editor Naua Daur Media and a former head of Radio Pakistan, tweeted.
The management and team of JournalismPakistan.com, while acknowledging the outstanding contributions of Mr. Ziauddin, also wished him a speedy and complete recovery.