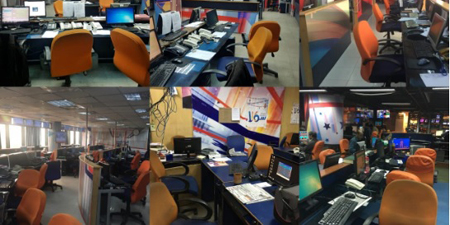 JournalismPakistan.com February 01, 2019


ISLAMABAD – Staff at popular news channel Geo went on strike Friday across Pakistan, frustrated over the management not paying their salaries.
The workers claim four months of wages remain outstanding that has left them financially crippled.
They say they acted patiently for many months, but it had now become increasingly difficult to continue work without getting paid.
An insider tells JournalismPakistan.com that a senior journalist at the Islamabad office has indicated there was no chance of salaries being disbursed even in February.
Although Geo does not have a workers union, the strike appeared well-coordinated.
Some employees posted images of empty newsrooms at several stations.
It was not immediately clear how long the strike would continue. There were no reports of the management making any attempt to end the crisis.
Meanwhile, office-bearers of National Press Club and Pakistan Federal Union of Journalists (PFUJ) visited the Geo offices in Islamabad to express solidarity with the striking workers.
The PFUJ has plans to set up a protest camp outside the channel's offices from Monday.
Geo announced last month it would cut staff wages by 20 percent and sack some employees in a bid to eliminate the gap between revenues and expenses.
A statement from the network said the reduction would come into effect immediately and is for employees drawing more than Rs 0.4 million per month.
Geo cites an economic slowdown - the consequence of a weakening rupee and a drastic reduction in advertising budgets of major advertisers - as the reason for these drastic measures.