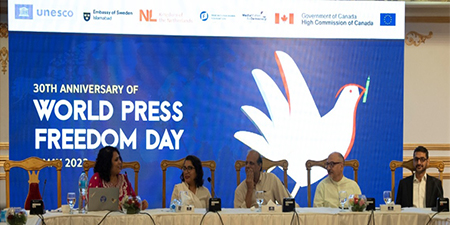 JournalismPakistan.com May 03, 2023


ISLAMABAD—UNESCO collaborated with various organizations, including the European Union Delegation to Pakistan, the Embassy of the Kingdom of the Netherlands, the Embassy of Sweden in Pakistan, the High Commission of Canada in Pakistan, and the Friedrich Naumann Foundation, to hold a stakeholder consultation to mark the World Press Freedom Day.
Over 50 participants from civil society, government agencies, parliamentarians, digital media professionals, academia, international organizations, and missions discussed identifying media development priorities in line with this year's theme, "Shaping a Future of Rights" - Freedom of expression as a driver for all other human rights.
The discussion also covered media as a fundamental right, media ethics, sustainability, financial viability, and themes such as disinformation and hate speech online, particularly concerning election reporting. The session was moderated by Asad Beg, co-founder of Media Matters for Democracy, and Gharida Farooqi.
During the consultation, participants emphasized the importance of promoting media diversity, safeguarding press freedom, and ensuring the sustainability of media outlets. They discussed a range of issues related to media development, including generating revenue, countering disinformation and hate speech, and restoring the credibility of information and quality of reporting.
The panelists highlighted the need for newsrooms to become more economically sound and sustainable. They shared best practices for achieving these goals and discussed ways to reduce the layers of legislation that often hinder media development. They called for the creation of more holistic policies to guide the future of journalism.