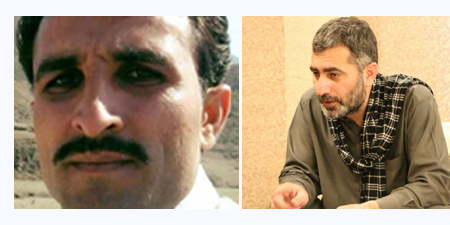 JournalismPakistan.com October 16, 2017


ISLAMABAD – A tribal journalist was abducted Sunday by armed gunmen while another was unaccounted for, Freedom Network reported Monday.
The network said Shah Nawaz Tarakzai (pictured, left) was kidnapped from a media center and Islam Gul Afridi (pictured, right) remains unaccounted for since Sunday. He last spoke to his chief editor the same day.
"The enforced disappearance of two journalists is a great cause of concern and we demand that both the civilian and military authorities should make safe recovery of both Tarkzai and Afridi," Freedom Network said in a media alert.
"Both Shah Nawaz and Islam Gul are professional journalists and their disappearance in such fashion is disrespect to the state and government of Pakistan's commitment to upholding freedom of press and freedom of expression,"
Shah Nawaz is associated with Prague-based Pushto-language Mashaal Radio while Islam Gul writes for online newspaper Waziristan Times.
Shah Nawaz's brother Aftab Mohmand said: "They (gunmen) asked Shah Nawaz to accompany them to a police station for some investigation purpose and my brother did not hesitate although he was not taken to Shabqadar Police Station instead eyewitnesses say they drove him in Peshawar (district) direction."
FN reported that the missing journalist was busy sending a report to his network when the armed men entered the Media Center in Shabqadar in Charsadda, Khyber Pakhtunkhwa.
"The abductors told two journalists on the spot that they should not report the disappearance of Shah Nawaz and "stay silent," FN quoted Aftab as saying.
Islam Gul who spoke to his chief editor Farooq Mehsud on October 14 told him he had received a call from an unknown number. "I want to inform you about this call."
Gul's number remains switched off since then and there has been no contact, FN said. - A Freedom Network media alert/Photos: Freedom Network