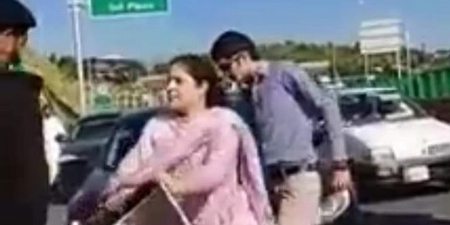 JournalismPakistan.com May 22, 2020


ISLAMABAD—Abbas Nasir, a former editor of Dawn, has shared a Whatsapp message in which instructions are given on downplaying the incident that involved a woman claiming to be the wife of a colonel and who misbehaved with the staff of Hazara Motorway.
However, Nasir did not disclose the sender and the receiver of the message. From the information, it seems that the instruction was not to highlight the incident. It says the incident should not be treated as breaking news, "just simple tickers, no beeper."
In his tweet, Nasir said, "The supra-editors are in action with their 'guidance' to TV newsrooms."
The message includes three tickers in Urdu. The first one quoting sources says a probe against the colonel has started. Again citing sources, the second headline says the colonel has already tendered an unconditional apology, and finally, the colonel has also expressed regret over the behavior of his wife.
The video of the woman berating the officials of Hazara Motorway for stopping at a barrier went viral.
'No breaking. Just simple tickers. No beeper.' The supra-editors are in action with their 'guidance' to TV newsrooms. pic.twitter.com/TAoF32qcRX