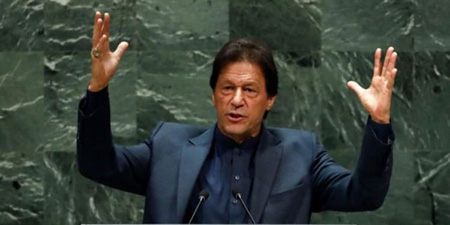 JournalismPakistan.com September 30, 2019 Z.B.Saigol



I'm going to cut straight to the chase. I've never been an admirer of Imran Khan. Not when he was young and doing great things with the cricket bat and ball and certainly not when he decided to take up politics.
Well, that was in the past.
His speech at the United Nations General Assembly was not only an eye-opener but won me over. The man has changed my perspective of himself and all he stands for. He has matured, his vision has broadened, and on Friday Imran Khan, the prime minister, did the country proud.
He was impressive. He spoke well, he explained well, and certainly gave off the impression that he knew what he was talking about. He laid it out in a matter of fact style that just served to highlight what Pakistani leaders have been unable to do in the past. He did it on equal footing; no holds barred.
I watched his speech twice.
In the past, I have never watched any Pakistani leader's speech to the end, not even Benazir Bhutto's. This speech was an education. It took apart misconceptions and perspectives, laid bare the facts and challenged all to disagree. And yes, it was not a speech designed to appease his voter base. It was not for domestic consumption. It was a speech fit for the United Nations General Assembly.
For 24 hours afterward, the internet, the social media, the electronic media, and the print media buzzed with little else and that too on both sides of the border. The conversation continues and rightfully so.
There are multiple reasons for this as PM Imran highlighted all that mattered, starting with global warming and the dire impact it could have on Pakistan's future, the war on terror and Islamophobia, and finally the fearful situation in Kashmir. All these issues are of great importance. People the world over have been looking up all issues he spoke about. There is a new-found sense of awareness and curiosity. This is good. This is positive.
Imran Khan, became in a matter of hours, the second most searched name on Google after Donald Trump. On the other hand, India's Modi languished in fifth place after his insipid speech which was primarily targeted for his voter base. Indeed, his was not a speech for the United Nations; it sounded like a well-rehearsed election campaign rant.
On the domestic front, Pakistani Twitter and Facebook users have been effusive in praise and criticism of Imran's speech. This is to be expected. PMLN's supporters have tried to find reasons to dish the speech but have been unable to provide a real argument for dislike other than to resort to vague and spiteful comments that have no real substance or proof. This is a weak response, a meaningless and limp reaction.
But overwhelmingly, there has been more acceptance and admiration than negativity. Met this lady today at a university. She was a visiting professor from a foreign university, and she said she had not come across a more valid and telling speech by a Pakistani leader in memory. And she was not an Imran Khan fan!
The response from across the border too was as expected. The first thing they zeroed in on was that Imran had dared to make a nuclear threat on the stage that is the United Nations General Assembly. That, of course, is not true. He never did. On the contrary he had pointed out the threats that could lead to such a terrifying eventuality, pinpointing that the situation in Kashmir, caused by India sending in 900,000 troops could trigger instability, leading to dire consequences. He called for restraint and asked the UN to intervene and let the Kashmiri people decide their destiny as mandated.
The Indian media twisted this to their liking. It's like they have no mind of their own.
Imran Khan's was not a threat, but a sane call for survival.
The Indian media also managed to sideline the dangerous and inhumane situation prevailing in Kashmir by barely mentioning it. They continued their mantra of radical Islamists and terrorists in Pakistan, something Imran had thrown out in the open with the challenge that it could be verified by UN observers and any other powers that may be.
It was almost like the Indian media is so indoctrinated in their hate of anything Pakistani that they are unwilling to hear the truth even when it is right out in front of them. It's like they are listening to a different tune.
There is a hilarious video out there on YouTube and Facebook, where an Indian reporter is in the midst of an impassioned diatribe against Pakistan, when he is heckled by some passers-by. He gets so inflamed that he starts screaming like an unhinged person. Just shows the tolerance level of their media. The man lost it. Instead of going about his job professionally, he resorted to abuse and screaming.
There is also an interesting mime going about in which PM Modi is asking rhetorically, "Did Imran call me Hitler?"
No. He did not.
What he said was that India blames Pakistan for fomenting trouble and nurturing terrorists, but don't like to be told that their prime minister is a member of a terrorist organization — the Rashtriya Swayamsevak Sangh (RSS) which fashioned itself on Hitler's Nazis and Mussolini's fascists. The RSS was responsible for the assassination of Mahatma Gandhi and had in the years since, in the name of Hindu nationalism, proceeded to kill, torture and maim, thousands of Muslims, Hindus, and Christians in India.
This point was ignored by the Indian media as was Imran's premise that the RSS and RAW were involved in subversion and terrorist activities in Pakistan's Balochistan province.
What the Indian media deliberately ignored was Imran's plea for peace. He said, "Let's put all this behind and move forward through trade and cooperation. What's done is done, right or wrong, and move on towards shared prosperity and trust."
Nope.
They did not hear that.
All they heard was threats by Imran Khan and promises made earlier by Modi to provide Indians with more housing, better living conditions and the broader implementation of the Adhar card, a digitally monitored identification card system, something Pakistan started back in the early eighties.
It's just a matter of perspective.
And yes, Mr. Modi, how about building some public toilets in India where people use fields, drains, empty spaces and the rail tracks to do their 'business.' That would go a long way in bettering environmental health since the environment is what you started your speech with.
But then 70-plus years of mistrust and abuse of sensibility does not go away overnight because of two speeches made at the United Nations General Assembly.
Just saying, it's a matter of perspective.
Photo: AP