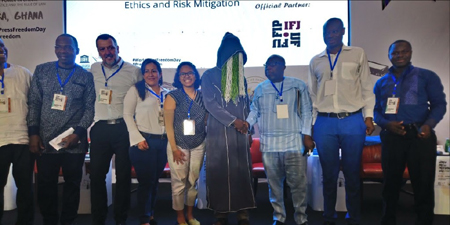 JournalismPakistan.com May 04, 2018


BRUSSELS - Investigative journalism will be threatened if journalists lack proper protection, equipment and resources, a meeting hosted by the IFJ at World Press Freedom Day event in Accra, Ghana has heard.
Journalists and union representatives from Kenya, Colombia, Indonesia, Ghana and Nigeria explained the threats faced and the failings of safety mechanisms, law enforcement authorities and media organizations to provide the support necessary to ensure journalists can continue to fulfill their mission.
Adriana Hurtado, President of FECOLPER, Colombia said too often journalists were let down by the high levels of impunity which were leading to an increasingly censored or self-censored journalism.
Citra Prastuti of the Alliance of Independent Journalists in Indonesia called for better enforcement of laws designed to protect the media and journalists alongside stronger protections for whistleblowers.
Dopo Olorunyomi of the Premium Times in Nigeria said it was vital news organizations found ways to make journalism pay so they can properly resource investigative journalism.
Erick Odour of the Kenyan Union of Journalists called for a stronger voice for workers in the industry and for employers to fulfill their obligations to protect journalists carrying out investigations.
In a moment of high drama, masked undercover Ghanain journalist Anas joined the panel to talk about the threats he faced following a string of high profile investigations which had led to the jailing of public officials. He always wears a mask to protect his identity. When asked why he continued in the face of such threats he told the 150-strong audience "because it is in the public interest that I and we all continue."
IFJ Deputy General Secretary Jeremy Dear who chaired the panel said: "It is clear we need laws that protect us that are properly implemented and enforced, we need action to tackle impunity, we need resources in our newsrooms, training in both security and digital security, for the state and employers to fulfill their responsibility for safety and for strong protections for sources and whistleblowers. Our unions and associations have shown they are committed to fighting for these measures and defending investigative journalism in the face of a range of threats". – IFJ media release