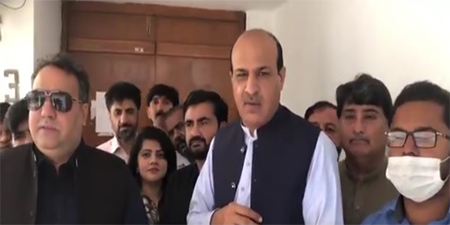 JournalismPakistan.com September 14, 2021


ISLAMABAD—Speaker National Assembly Asad Qaiser ordered locking of the press gallery Monday during President Dr. Arif Alvi's address to a joint session of parliament, forcing journalists to stage a protest sit-in outside his office.
The reporters who had been issued special invitation cards from the presidency for the occasion were surprised to see both the Press Lounge and Press Gallery, situated on the third floor of the Parliament House, locked when they reached there for coverage.
The agitating reporters first staged a sit-in at the main entrance of the Parliament House and then moved to the front of the Speaker's Office. The journalists, including some of the most senior reporters, remained there throughout the president's speech and kept chanting slogans against the speaker's act, terming it "unconstitutional and illegal."
President Parliamentary Reporters Association (PRA) Siddiq Sajid termed the speaker's act a violation of Article 19 of the Constitution regarding press freedom. He alleged that the speaker had violated his commitment to them. He had agreed to allow them to enter the gallery after an assurance that journalists would not create any disturbance and would only stage a walkout to register their protest democratically.
PRA General Secretary Asif Bashir Chaudhry declared that their protest against the speaker's act would continue. They would devise a strategy in this regard at the next session.
Journalist Farooq Aqdas, who has been covering parliament for over three decades, said the speaker had insulted the reporters and the whole parliament.
The speaker's action came after the PRA announced staging a walkout from the Press Gallery during the president's address and join their colleagues protesting outside the Parliament House since Sunday against the government's plan to set up the controversial Pakistan Media Development Authority (PMDA).