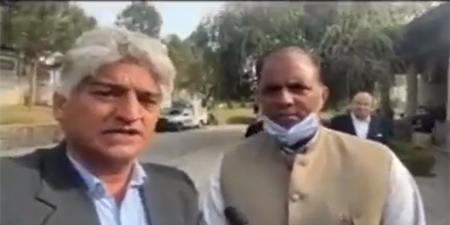 JournalismPakistan.com February 19, 2022


ISLAMABAD—The bitterness and division among journalists were evident on Friday when Shamshad Mangat, editor of Online News Agency, and Matiullah Jan, who runs his YouTube channel, were involved in a shouting match.
It all started with Mati interviewing Mangat on Mohsin Baig's appearance before the Islamabad Court. The video of the interview has been shared widely on social media.
In a tongue-in-cheek comment, Mati asked if the torture against Baig was done by the "girl's brother," reminding him of the news Online released regarding why some men beat Ahmed Noorani, who was at that time working for The News.
In October 2017, Noorani was attacked by knife-wielding men in Islamabad.
Mangat was not amused. He told Mati that Waheed Dogar, who had filed the story, still stands by his news. Then he repeatedly called Ahmad Noorani "bayghariat" and is part of an alleged anti-Pakistani group managed by former envoy to US Hussain Haqqani. Mangat said Noorani would be taken care of when he returned to Pakistan.
For his part, Noorani, who is now settled in the US, has been calling Mohsin Baig an employee of ISI who has nothing to do with journalism.
When Mati reminded Mangat about his words regarding Noorani, Mangat turned his guns on Mati. At one time, he seemed to be pushing Mati and asked if he was working for the "devil or humans."
As Mangat left, Mati was left shocked. Ending his interview, he could only say: "Our history is bitter, very bitter."