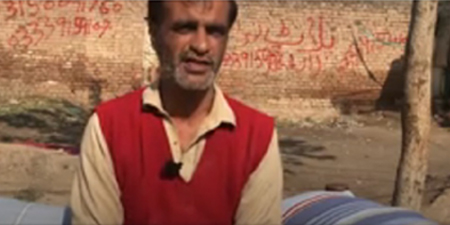 JournalismPakistan.com December 08, 2020


PESHAWAR—After working as a journalist for three decades, reporter Shakirullah Jan now works as laborer in Peshawar.
He lost his job as a court reporter of local Urdu daily Khyber two-and-a-half years back, reports online newspaper Independent Urdu. "I was at a hospital for my wife's treatment when I received a call from the office that my services are not required," he said.
For years, he covered court proceedings for Mashriq newspaper.
With six daughters and a son, he had no option but to look for any work that could keep his kitchen running. "I earn Rs700 a day whenever I get work."
His three daughters in 6th and 7th grades had to give up studies because Shakir could not pay their fee.
"I looked for a job for one year but there was none. I started working on straightening iron used in the construction of homes. It was good in terms of daily wages but it was hard work."
Shakir is a diabetic and had blood pressure. "I work three or four days a week."
From time to time, friends and journalists' associations help him.
He said that in the past when he did not a job he could find another one in three or four months in any newspaper. But now journalists can't find work. "The situation the media is facing today is unprecedented."