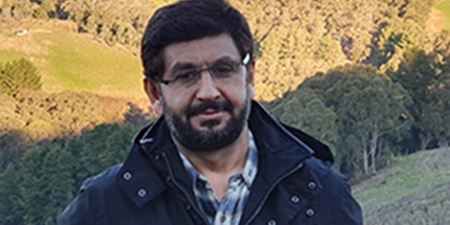 JournalismPakistan.com September 19, 2021


ISLAMABAD—Geo News presenter Saleem Safi has apologized for sharing a fake picture of Shehryar Khan Afridi, Chairman of the Parliamentary Committee on Kashmir, being searched at the New York's JFK Airport.
According to Dawn, Afridi arrived in New York via flight QR-0701 (Qatar Airlines) at 3:15 pm on September 15. JFK sources claimed that Afridi was stopped for secondary screening when he failed to satisfy immigration officials at his first screening.
He was reportedly questioned for about an hour and allo­wed to enter when the Pakistan consulate in New York confirmed his credentials.
In his tweet in Urdu, Safi first blamed "some imposters" for a photoshop snap showing a humiliating check of PTI MNA, who has also served as federal minister.
He added that he regretted sharing the picture. However, in the very sentence, he taunted Afridi.
A known critic of the PTI government, Safi said he was happy that the Americans did not "recover" ten kg heroin from Afridi. He was referring to the case of narcotics against the PMLN MNA Rana Sanaullah when Afridi was the minister for narcotics.
However, many tweeple questioned Safi's journalistic credentials, wondering how he could not decipher a fake picture of the MNA. Others, however, maintained that the journalist has a personal grudge against the current federal government. Some shared the actual photo.
Later in an interview with Saama TV correspondent Abbas Shabbir, the Kashmir committee chairman said some people promote fake news. "I am here to highlight the cause of Kashmir. And my message to those spreading fake news is that it would not work."
He added that he had come to the US for the first time. "I spent the routine time at the airport as the first-time visitor has to. But the amount of filth in the form of fake news is disgusting."