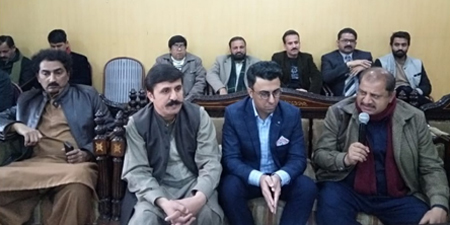 JournalismPakistan.com January 05, 2019


ISLAMABAD - The Rawalpindi Union of Journalists (RIUJ) and Media Matters for Democracy (MMfD) have signed a Memorandum of Understanding (MoU) to set up a digital safety help desk for journalists.
The MoU was signed by RIUJ President Mubarak Zeb Khan and MMfD Executive Director Asad Baig at the National Press Club Islamabad.
Afzal Butt, President Pakistan Federal Union of Journalists (PFUJ), was also present at the signing ceremony.
Mehfooz Raabtey, the digital safety help desk, will offer digital safety tips for journalists and provide them guidance on how to secure their digital communication and online presence. Any journalist targeted online for his work can reach out to the help desk for assistance through a WhatsApp number that will be shared with the journalists.
RIUJ President Mubarak Zeb Khan noted that this helpline was the need of the hour given that journalists were more frequently targeted online for their work. He said the freedoms once enjoyed over the Internet were now deteriorating fast, making it difficult for journalists to share their reporting and analysis online.
Mr. Khan added that online smear campaigns and abuse hurled at journalists not only pressured them into exercising self-censorship over the Internet but also had a psychological impact on their well-being. He hoped that Mehfooz Raabtey would provide them the necessary digital support to reclaim their digital freedom.
MMfD Executive Director Asad Baig said Journalists are being subjected to increasing digital threats. There is the increasing threat of surveillance; there are attempted hackings, leaks of information, and targeted and structured hate speech and incitement campaigns."
"If the digital privacy of journalists is compromised, it can also potentially expose their information sources, which will make journalists and sources more reluctant to contact each other on the phone or through the Internet," he said.
Afzal Butt said that he hoped that this helpline would help journalists stay secure and respond effectively to these digital threats across the country. He said the establishment of the digital safety help desk is a great achievement of RIUJ leadership. He said the help desk would provide a platform to journalists' community of the country to secure themselves against digital threats.