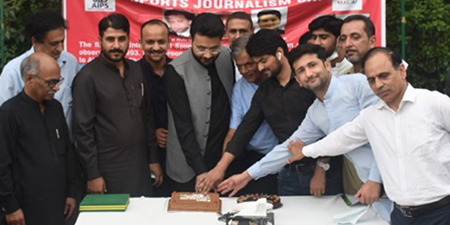 JournalismPakistan.com July 03, 2021


ISLAMABAD—While paying rich tributes to the sports journalists' resolve to work for the betterment of athletes, Minister of State for Information Farrukh Habib said their role in highlighting players' plight during tough COVID-19 days was praiseworthy.
The minister spoke at the Rawalpindi-Islamabad Sports Journalists Association (Registered) function to celebrate the International Sports Journalism Day at the Islamabad Tennis Complex.
"It is praiseworthy to see sports journalists even taking the risk, reaching to suffering athletes and trying to seek help for them. No doubt sports journalism is one of the most important parts of journalism, and no one can ignore their utility in the society for their respective organizations."
He said that sports journalists had always played a critical role in raising the status of an ordinary athlete to a level of international athlete. "It is because of the sports journalists that today we see a number of Pakistan players getting international status. Without their help that would not have been possible."
The minister said that sports journalists' quota in government-sponsored housing schemes has already been allocated. "Those journalists, including sports journalists who have no house of their own to live, will be accommodated in that scheme."
Former international match referee Col (Retd) Naushad Ali said that Pakistan sports journalists have far better knowledge. "I have the honor of communicating with numerous international sports journalists during my tenure as the manager of the Pakistan national cricket team. I always found Pakistan journalists (majority) more knowledgeable and having grip on that particular issue on which they were taking. Indeed, they deserve a better deal."
Former Pakistan Open champion and Pride of Performance recipient Farhan Mehboob said that he had achieved the world No 14 status because of the support of sports journalists. "Without their contribution. I would not have been able to reach this level."
Emerging cricketer Rohail Nazir also hailed sports journalists' role. "Whenever I performed well, sports journalists from all over the country praised my work and I am thankful to them."
Earlier, RISJA Chairman Abdul Mohi Shah thanked the minister for devoting time to celebrate the day with journalists. "The sports journalists in the country are facing numerous problems. We hope that the government would help make sports journalism one of the most valuable forms of journalism. Sports journalism around the world is considered the most important part of the journalism family. Here in Pakistan, however, it is still struggling as a major part of the society can easily be lured by fake slogans. In sports journalism you can only depict the reality which surely is the hallmark of this profession."
President RISJA Ayaz Akbar said that sports journalists should receive the same respect in the corridors of power as the political journalists. "RISJA will always fight for the genuine cause of sports journalism."
Later, Farrukh Habib presented a shield to honor the services rendered by the veteran sports journalist Faheem Anwar.