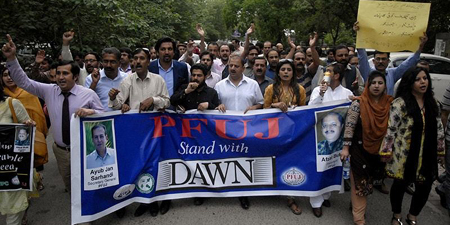 JournalismPakistan.com July 13, 2018


ISLAMABAD - Journalists and media workers in Pakistan have been staging protests across the country against the unannounced censorship imposed by the "hidden and dark forces" on Pakistani media and creating hindrances in the distribution of Dawn in the cantonment areas.
The protests were organized by Pakistan Federal Union of Journalists (PFUJ) which had launched "Press Freedom Movement" on July 5 against this unlawful action of the "dark forces" trying to control the media and are involved in "media management" of newspapers and television channels from behind the curtains.
Most protest camps were set up outside the offices of Dawn newspaper, which is facing the onslaught of these "dark forces" as hawkers are being pressured and coerced from distributing Dawn newspaper in cantonment areas across the country while transmission of its television channel DawnNews has also been closed or disturbed. At other places, the protest camps were held outside the press clubs.
Political leaders belonging to various political parties, members of the civil society, lawyers representatives and civil rights activists visited these camps in large numbers across the country to express their solidarity with the media workers.
These leaders assured the PFUJ that they would join this struggle whenever a call was given by the PFUJ.

The political leaders and civil representatives expressed deep concern over the manner in which the hidden hands were trying to control media in Pakistan.
"We are not afraid of guns as we are out to protect the constitution which guarantees freedom of expression," a PFUJ leader said. "We are fighting to protect the right of information of a common man which has been guaranteed in the constitution."
PFUJ President Afzal Butt said journalists would defend the freedom of expression at any cost. He also asked the owners of newspapers and television channels to speak out. "I would like to see a statement of All Pakistan Newspaper Society (APNS), Council of Newspapers Editors (CPNE) and Pakistan Broadcasters Association (PBA) on this issue. Your silence is only going to aggravate the situation. Speak out and let the people know who are the forces behind this unannounced censorship and which "dark forces" are trying to gag the press freedom," he said.
PPP's former senator Farhatullah Babar while speaking at the Islamabad camp said the curbs on media are part of pre-poll rigging and a manifestation of state besieged by invisible defacto state within the state. "The defacto state is unaccountable and works at cross purposes with the dejure state ," he said.
"Not long ago the dejure state surrendered against mob violence in Faizabad but the defacto state supported the protestors. Lately, the defacto state has stopped the circulation of Dawn in the cantonment areas and held "garrison state" responsible for this act. He said the freedom of expression is being curbed to cover up the unaccountable defacto.
PML-N leader Mushahid Hussain said it was not the first time in Pakistan that the media was being forced to censor news and follow a line. He said democracy cannot prosper without a free media. "Political parties are also facing problems along with the media.
National Party leader Ayub Malik said Dawn was an institution and the forces which are against it have never allowed any institution in Pakistan to prosper.
Rights activist Tahira Abdullah said it was unfortunate that a number of news channels and FM channels were being opened on "phone calls". She said we have always fought for the freedom of expression in this country and our fight will coniniue come what may.
The protest camp at Islamabad was led by PFUJ President Afzal Butt and leadership of Rawalpindi-Islamabad Union of Journalists while the camp outside Dawn Headquarters was led by PFUJ Secretary General Ayub Jan Sarhandi and leaders of Karachi Union of Journalists.
In Quetta, the protest Camp was led by PFUJ's Senior Vice President Saleem Shahid and Assistant Secretary General Abdul Khaliq and BUJ leadership. Peshawar protest camp was led by PFUJ Vice President Sahibzada Yousafzai and leadership of Khyber Union of Journalists.

In Bahawalpur Vice President Amin Abbassi and office-bearers of Bahawalpur Union of Journalists led the protest. In Lahore, the protest was led by Punjab Union of Journalists President Naeem Hanif and PFUJ Finance Secretary Waseem Farooq.
The Hyderabad protest camp was led by PFUJ Vice-President Khalid Khokhar and Lala Rehman while Sukkur protest was led by Lala Asad Pathan and leaders of Sukkur Union of Journalists.

In Multan, the camp was led by Multan Union of Journalists President Abdul Rauf Mann while in Abbottabad Assistant Secretary General M.Haroon led the camp.
In Faisalabad, the camp was set up outside Dawn Bureau and led by leaders of Faisalabad Union of Journalists.

Similar protests were also held in Gilgit-Baltistan and several citities of Azad Khashmir.
Photo courtesy: Dawn