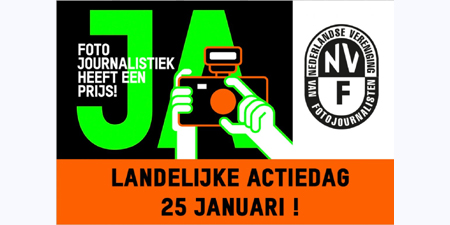 JournalismPakistan.com January 14, 2019


BRUSSELS - The Dutch union of journalists Nederlandse Vereniging van Journalisten (NVJ, an IFJ and EFJ affiliate) and its photojournalist section, the NVF, have announced that they will be going on strike in protest at the erosion of rates of pay.
The International and European Federation of Journalists (IFJ and EFJ) fully support their demands and welcome the coordinated action among freelance journalists to defend their rights.
The NVJ/NVF has written to six prominent Dutch media companies calling for talks – with strike action set to go ahead on January 25th if talks are unsuccessful. The kick-off meeting will take place on Tuesday.
Currently, according to the NVJ, over 300 Dutch photojournalists confirmed to participate in the strike by stopping their work to join the action for a pay rise.
A national monitor of freelance rates shows rates fell from €80 a photo in 2014 to an average rate today of €42, with some rates falling as low €15 to €20 for a photo. The NVJ/NVF are calling for a 14% increase in rates to keep up with inflation since 2010, to match online tariffs with online ones, and a respect for their creators' rights (copyright).
IFJ General Secretary, Anthony Bellanger, said: "Working as a photojournalist requires technical skills, talent, creativity, dedication, time, investment and resources, things that deserve a fair payment. Media companies paying 15€ or 20€ for all that work is not just an insult to the profession but to quality journalism. We back freelancer's rights and demand media companies to pay decent rates".
"This action shows us the way to build concrete solidarity between staff and freelance journalists. We fully support the photojournalists in the Netherlands and the union's campaign fighting to improve the professional working conditions and build trust and respect between professional and the broader public opinion. We are also calling every photojournalist in Europe to express online support with the Dutch colleagues, their fight is our fight", added EFJ President Mogens Blicher Bjerregaard.
The General Secretary of the NVJ/NVF, Rosa García López said: "So far, more than 200 freelance photojournalists have said they are prepared to stop work on 25 January. That is almost unprecedented in the history of self-employment." – IFJ media release