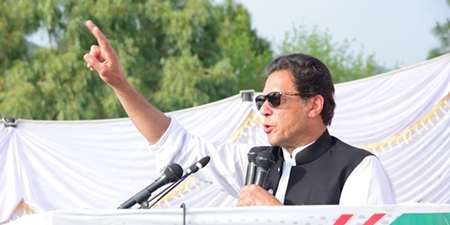 JournalismPakistan.com March 21, 2022


ISLAMABAD—Pakistan Federal Union of Journalists (PFUJ) has demanded an apology from Prime Minister Imran Khan for leveling allegations against the media and journalists community in a public meeting in Malakand Sunday.
He alleged that media houses are receiving funds for a campaign against the PTI government.
In a joint statement, President PFUJ Shahzada Zulfiqar and Secretary-General Nasir Zaidi expressed astonishment and anger at the prime minister's baseless remarks in a public meeting.
"It is surprising that the head of the government under whom all the agencies are working, instead of ordering a probe, is using a public forum for spreading unfounded allegations against media."
They urged the prime minister to order inquiry through the federal investigation agency (FIA) or a high-level judicial commission, instead of spreading "fake news" just for electioneering or defusing pressure of "no trust motion filed by the opposition against him."
"Fabricated, concocted, and baseless allegations against media and journalists will not help the country's prime minister, a top slot and responsible position that requires disseminating utmost credible information and reasonable and responsible behavior," the union leaders said.
They said these are crucial times for the country's respect and credibility among the comity of nations. Such behavior will further ruin the "image of the country, "We cannot afford this at this juncture of history."