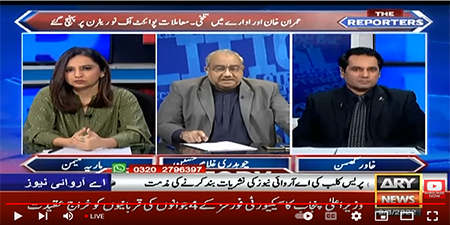 JournalismPakistan.com August 09, 2022


ISLAMABAD—Pakistan Electronic Media Regulatory Authority (PEMRA) has sent a formal "show cause notice" to ARY News, accusing it of airing "false, hateful and seditious content."
Reportedly, the regulator served notice after it ordered private cable operators and service providers on Monday to block the channel's transmission "till further notice."
According to the notice addressed to CEO Salman Iqbal, "ARY News aired a Breaking News at around 16:18 HRS on Monday wherein the news anchor Sadaf Abdul Jabbar referred to an old story aired on ARY News on June 27, 2022 regarding strategic media cell of the PMLN government which is tasked to malign chairman PTI through anti-military narrative. The news anchor was absolutely biased and alleged the government without taking its standpoint," it stated.
The PEMRA notice stated that ARY News also aired remarks by Dr. Shahbaz Gill, a spokesperson for ousted Prime Minister Imran Khan, which "tantamount to inciting [the] ranks and files of armed forces towards revolt."
"The statement made by the guest on ARY News is violation of Article 19 of the Constitution of Islamic Republic of Pakistan as well as PEMRA laws," it further emphasized while reproducing the transcript of the statement by Dr. Gill.
Salman Iqbal, CEO of ARY News, however, rejected PEMRA's charges and took the stance that the TV channel gets shut down just because of reporting 'a true story.'
"It is really strange, we reported a story in July which we proved today for being totally accurate. Just cause we reported a true story #ARYNews gets shut down," he tweeted with the hashtag #FreedomOfSpeech.
In its Breaking News aired on Monday, ARY News reported that the ruling political party PML-N reactivated its strategic media cell to malign PTI and its chairman Imran Khan besides building a narrative to prove the rival as an anti-military party. "The PML-N's media cell has allegedly created social media accounts that appear to belong to PTI," the channel reported.