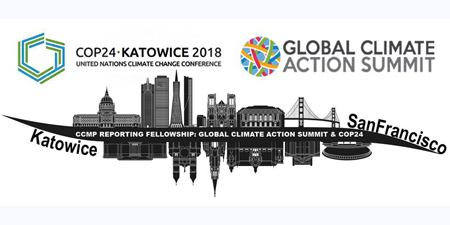 JournalismPakistan.com August 13, 2018


KARACHI – Prominent Pakistani environmental journalist Amar Guriro has been selected for the Earth Journalism Network (EJN)'s Climate Change Media Partnership (CCMP) fellowship.
He is the only journalist from Pakistan chosen for this international fellowship. There were over 300 applicants from all over the world and only 20 got selected from Nepal, Philippines, Belize, Nigeria, China, Uganda, Brazil, Indonesia, India, Vietnam, Argentina, Costa Rica, Thailand, Solomon Islands, Israel-Palestine, Indonesia, South Africa, Bangladesh and Pakistan.
Under this fellowship, all 20 selected environmental journalist will be taken to two international mega-events to attend and cover the Global Climate Action Summit (GCAS) from September 10-15 in San Francisco, United States.
It is a follow-up event of the Paris Agreement, which will bring leaders and people together from around the world to "Take Ambition to the Next Level." It will be a moment to celebrate the extraordinary achievements of states, regions, cities, companies, investors and citizens with respect to climate action.
The second event under the fellowship is the 24th Conference of the Parties (COP 24) to the United Nations Framework Convention on Climate Change (UNFCCC) in early December in Katowice, Poland.
Guriro contributes news stories, features, investigative pieces and multimedia stories to several national and international media outlets. He is a member of United Nation's Asia Water Journalist forum and an alumnus of International Visitors Leadership Program (IVLP).