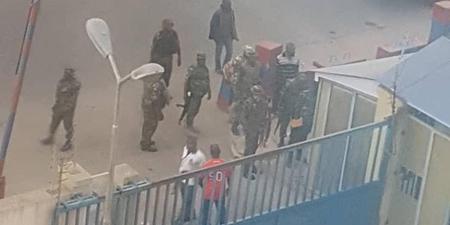 JournalismPakistan.com January 08, 2019


NEW YORK - Nigerian authorities should immediately release Uthman Abubakar, an editor of the privately owned Daily Trust, return equipment seized in raids on the paper's offices, and cease the intimidation of news outlets covering the conflict in Nigeria's northeast, the Committee to Protect Journalists said on Tuesday.
Nigerian security services on Monday forced their way into the offices of the Daily Trust in the northeastern city of Maiduguri and the capital, Abuja, according to Mannir Dan-Ali, editor-in-chief of the paper, and media reports.
The military detained two staff from the Maiduguri office - reporter Ibrahim Sawab and northeast regional editor Abubakar - and seized computers from the Abuja office, Dan-Ali, and Sawab told CPJ.
The same day, the military surrounded the Daily Trust office in the southern city of Lagos for about five hours, from 9:00 p.m. local time, Dan-Ali told CPJ.
Abubakar, who was arrested with his laptop and two phones, has yet to be released, according to Sawab, who was permitted to leave with his tablet and phone after eight hours in military custody. Sawab told CPJ today that neither he nor Abubakar had been charged.
In a statement posted on the military's Facebook page, Sani Kukasheka Usman, brigadier general and director of the army's public relations, said that the action was in response to a Media Trust report yesterday about the extremist group Boko Haram that "divulged classified military information" and undermined national security. Media Trust is the parent company of the Daily Trust.
The raids and arrests come just over a month before a national election is scheduled to take place in Nigeria.
"Nigerian security services should immediately and unconditionally release Daily Trust editor Uthman Abubakar and return all Daily Trust equipment and materials," said CPJ Africa Program Coordinator Angela Quintal. "Nigeria's military operations are a matter of public interest. This deliberate attack signals a dearth of respect for press freedom nearly a month before the national election when the public must be permitted to make informed decisions." – A CPJ News Alert