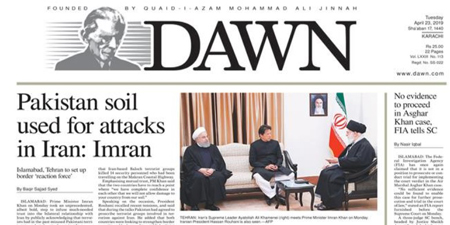 JournalismPakistan.com April 23, 2019


ISLAMABAD – The government on Tuesday stopped adverts to Dawn after it ran a story quoting Prime Minister Imran Khan as saying Pakistani soil was used for attacks in Iran in the past.
Khan said this at a joint news conference with Iranian President Hassan Rouhani in Tehran on Monday.
Although the paper reported the exact details of the presser, it stood out as other national dailies made no mention of this comment by the prime minister.
The authorities began targeting Dawn since late 2016 but with renewed and higher intensity from May 2018.
The paper's distribution was disrupted after it published an on the record interview with former Prime Minister Nawaz Sharif in May last year.
The paper first ran into problems after publishing an article on October 6, 2016. Headlined 'Act against militants or face international isolation, civilians tell military', it led to threats and intimidation against Dawn.
In an editorial last year, Dawn had said: "It welcomes dialogue with all state institutions. But it cannot be expected to abandon its commitment to practicing free and fair journalism. Nor can Dawn accept its staff being exposed to threats of physical harm."