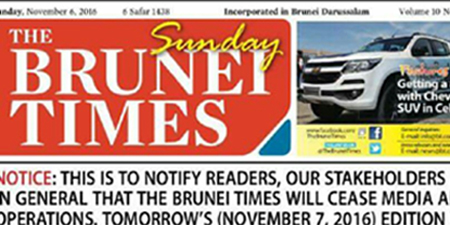 JournalismPakistan.com November 06, 2016 Waseem Abbasi



ISLAMABAD – The Brunei Times, a leading newspaper in Brunei has been ordered to shut down for running a story about an increase in Hajj and Umra visa fee by the Saudi government.
The paper quoted an official of the Saudi embassy as saying the hike for the Brunei residents was the result of Saudi Arabia's economic problems.
However, the embassy complained to the King of Brunei that the official quoted in the story was not authorized to speak, so the paper should be closed down. Only a one day notice was served on the newspaper to close shop.
The paper ran a notice just under its masthead Sunday which said: "This is to notify readers, our stakeholders and the public in general that The Brunei Times will cease media and publication operations. Tomorrow's (November 7, 2016) edition will be its final."
About 175 staff will be rendered jobless as a result of the paper's closure.
"The government had been angry with the paper for quite sometime for its work but the Saudi Embassy story proved to be the final straw," said an employee requesting anonymity.
An official at the paper said: "This was a decision by the board of directors. We have been operating on a deficit for 10 years and so based on today's economy this was no longer feasible."
(The writer is an investigative journalist with The News, Islamabad. He worked with The Brunei Times in Brunei for several years).