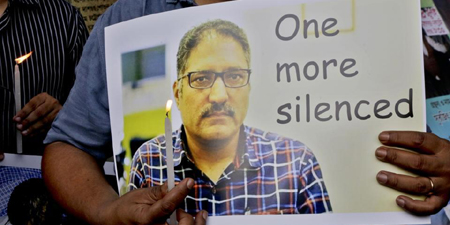 JournalismPakistan.com June 26, 2018


ISLAMABAD - National Press Club on Tuesday organized a condolence reference in memory of slain Kashmiri journalist Shujaat Bukhari.
Activists, journalists, lawyers and officials from the Azad Jammu and Kashmir government participated in the reference recalling their time with Shujaat Bukhari.
They said that the assassination of the brave and courageous journalist could not silence the voices of Kashmiris. "It would rather give more voice to the Kashmir movement," they said.
Bukhari, 50, Editor of Rising Kashmir was gunned down along with his bodyguard near his office in Srinagar on June 14 when armed men sprayed bullets on his vehicle.
The speakers said that Bukhari always stood with Kashmiri people and faced all kind of pressures with extraordinary courage and heroism. They said that the United Nations report on human rights violations in Kashmir exposed the real face of India that is perpetrating heinous crimes against humanity in Kashmir for the past 70 years. They said that Bukhari's tweet on the report was the reason behind the cowardly attack on the journalist which shows the level of frustration on the Indian side.
President Azad Jammu and Kashmir Sardar Masood Khan said that Bukhari kept raising his voice for oppressed Kashmiris till his last breath. He was punished for raising voice for the right of self-determination for Kashmiri people, he said while condemning the policies of the Indian government.
Masood said that it is the responsibility of Indian government to protect the journalists. "The Indian government has badly failed in protecting journalists working in India," he said urging the international community to look into the condition of journalists in India especially those working in occupied Kashmir.
Kashmiri activist Mishal Malik also addressed the gathering and talked about the contributions of Bukhari, his bravery and humility.
NPC President Tariq Chaudhry and General Secretary Shakeel Anjum also spoke and praised the martyred journalist for his fearlessness and professionalism. They said that Bukhari stood for principles and truth and gave his life for his people. They said that Bukhari will always be remembered as an icon of journalism.
Photo: AP