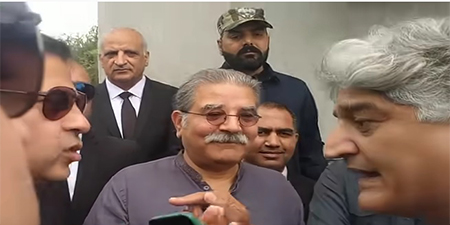 JournalismPakistan.com June 01, 2022


ISLAMABAD—Journalist Matiullah Jan has challenged anchors Sami Ibrahim and Imran Riaz Khan to invite him to their TV shows to discuss the 'rape' allegations leveled against him outside the Islamabad High Court.
In a tweet, Jan stated: "Thanks everyone for massive support. Such mean tactics can't deter me from asking Qs. For the record, allegations (now clarified as a joke) r rubbish & reflect upon anchors' true nature. My offer stands - invite me to your live show & if I prove you wrong you quit journalism."
In a video viral on social media on Monday, anchor Ibrahim claimed that Jan was raped in military barracks. Speaking during his appearance in the court, Ibrahim said that he found out on the internet about this.
Anchor Riaz, who was also present there, endorsed Ibrahim's allegation. However, Jan challenged both of them to invite him to their program to discuss the allegations.
Social media users have condemned the video clip and showed solidarity with Jan. They also condemned the misuse of the word 'rape' as a joke and ridicule.
Anchor and journalist Absa Komal stated on Twitter that instead of replying to Jan, both anchors kept making meaningful allegations. "A sensitive subject like rape abuse was nothing more than a joke for them."
Many people also asked what would such so-called anchors teach to their millions of viewers on TV shows and YouTube?
The issue became so hot on social media that the names Imran Riaz and Matiullah Jan started trending on Twitter.