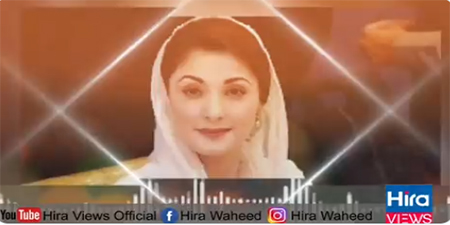 JournalismPakistan.com January 04, 2022 Cherie Conela



ISLAMABAD—An alleged phone call of PMLN leader Maryam Nawaz has been leaked on social media as she discusses reportedly with former Information Minister Pervez Rasheed TV analysts who appeared in the Geo News program Report Card.
During the telephonic conversation posted by Hiraviews on Twitter, apparently, Rasheed briefs Maryam about the TV analysts, including Hasan Nisar, Irshad Bhatti, Mazhar Abbas, and Babar Sattar. He emphasizes that nobody on TV could be considered their spokesperson presenting PMLN's viewpoint to viewers.
"Journalist Niazi (Hafeezullah Naizi) has a balanced viewpoint; however, he has been taken off air and is not allowed to write columns," the conversation continues.
During the phone call, Maryam showed concern that it was unfair not to present the PMLN stance during the talkshows. In contrast, PTI-supported anchors freely criticize the political opponents, even using abusive and non-parliamentary language.
The audio clip concludes with instructions by Maryam to deliver gifts brought by her father and former Prime Minister Nawaz Sharif from Azerbaijan to journalists Nusrat Javeed and Rana Jawad.
The language used during the telephonic conversation while discussing the analysts is inappropriate and undignified.