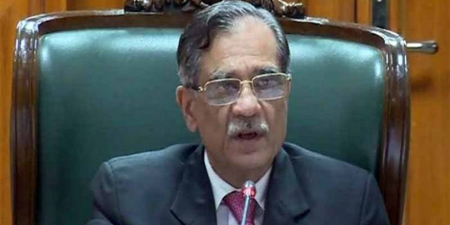 JournalismPakistan.com January 17, 2019


ISLAMABAD - As Chief Justice Saqib Nisar doffed his robe, journalists opposed to his judicial activism have taken out their tweets against the outgoing top judge.
Columnist Gul Bukhari thinks the outgoing chief justice has broken constitution and therefore needs to face a case under Article 6 of the constitution.
She was commenting on a news item in which Saqib Nisar sought forgiveness if his words had hurt anybody.
In another harsh Urdu tweet, Bukhari, who supports the jailed former Prime Minister Nawaz Sharif, called Nisar a "fraudster, liar, and a conspirator."
Matiullah Jan, who like Bukhari opposed the CJ, said in a tweet in Urdu that a political chapter which started with Chaudhry Nisar, the former interior minister, closed down with the retirement of Saqib Nisar, hinting that both played a role in bringing down the rule of Pakistan Muslim League-Nawaz government.
Babar Sattar, a lawyer, and a columnist termed the retirement as "good riddance." He tweeted: "The damage CJP Saqib Nisar inflicted by abusing his authority & creating political/economic/legal uncertainty will haunt us for a long time. The damage caused by Iftikhar Ch to public faith in judicial probity pales in comparison. The most polite thing to say today: good riddance".
Abdul Qayyum Siddiqui said Saqib Nisar was more interested in other matters than dispensing justice. "Main Saqib once observed publicly that he is left with only two ambitions in life, i.e. to build Dams and retire debt. I would also like to build some dams, a dam against undue and unnecessary delays in judicial determination of cases, a dam against frivolous cases."
Murtaza Solangi, former head of Radio Pakistan tweeted: "#GoodRiddanceSaqibNisar is the sentiment of the day."