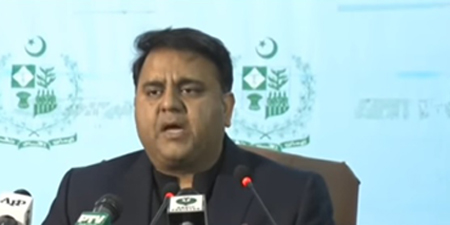 JournalismPakistan.com February 13, 2019


ISLAMABAD – Journalist unions have a passed a resolution condemning the non-serious attitude of Federal Information Minister Fawad Chaudhry and decided to boycott their scheduled meeting with him.
According to reports, the minister had invited a delegation of journalist union leaders on Tuesday to discuss the issues of the layoff of media workers, pay cuts, and wage delays.
However, according to the National Press Club, Islamabad, the minister thrice delayed the meeting that reflected his casual approach and caused inconvenience to the delegation members.
The resolution said that the minister had failed to improve relations between the media and the government, and with his non-seriousness approach proven that the government was not serious in resolving issues that journalists face.
The union leaders rejected what they said was a nexus between the government and the owners of media houses.
They said that an extensive meeting is to be convened in the next few days to decide on a future course of action.
The following leaders were among those invited to attend the meeting with the minister: Shakeel Qarar, and Anwar Raza (President, and Secretary National Press Club), Muhammad Nawaz Raza (President, Pakistan Federal Union of Journalist-Dastoor), Khalid Khokhar (Vice President, PFUJ), G.M.Jamali (President, PFUJ-Rana Azeem Group), Rana Azeem (Secretary-General, PFUJ), Pervez Shaukat (President, PFUJ-Workers' Group), Mubarak Zeb Khan (President, Rawalpindi-Islamabad Union of Journalists), Mazhar Iqbal (President, RIUJ-Dastoor), Khawar Nawaz Raja (Secretary, RIUJ), Tanzeelur Rehman (Secretary, Journalists Foundation), and Muhammad Waheed Shaikh (Secretary, Media Workers Organization).