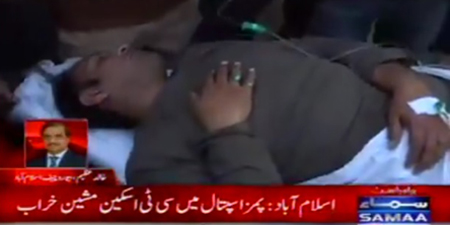 JournalismPakistan.com December 17, 2018


ISLAMABAD - Pakistani Journalists on Monday condemned an attack on a cameraperson of Samaa TV by the private security guards of former Prime Minister Nawaz Sharif outside the National Assembly.
As the sickening footage of the security guard running and kicking the head of the cameraman went viral, journalists condemned the attack.
According to Dawn, "TV footage showed the cameraman, Syed Wajid Ali of Samaa TV, lying on the ground outside the parliament building after a security guard allegedly shoved him for coming in the way of the PML-N supreme leader while recording him."
In a tweet, Zarrar Khuhro said: "As per reports cameraman's camera accidentally hit #NawazSharif protocol officer who then ordered his thug flunkees to chase him down and beat him. Once he was on the ground one stomped on his face or neck...something that can easily prove fatal".
For analyst A M Shahid Latif, it was a display of colonial mindset. "Colonial mindset does not confine itself to the political elite. Now it has infected the minds and souls of their staff as well. #NawazSharif guards attacked Samaa News cameraman. Condemn attack on freedom of press. Praying for the swift recovery of the victim of #PMLN brutality."
Matiullah Jan called for registering a case against the guard. "This is highly condemnable and the Gaurd must be attested and case registered against him."
Talat Hussain was also disgusted terming the incident "Absolutely condemnable and shameful."
In an Urdu Facebook post, Abbas Shabbir of Samaa TV simply asked the former prime minister to have "some shame."
Naveed Siddiqui, chief operating officer of Saama TV, maintained that "gullu butt mentality" is the hallmark of PMLN. "Personal bodyguards of Nawaz Shareef attack @SAMAATV camera man Wajid Ali Syed in Islamabad today. Whether in power or not, you can't take the 'Gullu Butt' mentality out of PML- N! For shame @Marriyum_A."
Nadeem Malik in an Urdu tweet condemned the incident but asked who will provide justice to the cameraman.
Columnist Mosharraf Zaidi was "sick to the stomach watching video of the attack on @SamaaEnglish camera person outside parliament. Horrified that his loved ones may watch it. The heart wants to see the same done to the attacker. But at a minimum, he should be prosecuted to the full extent of the law."