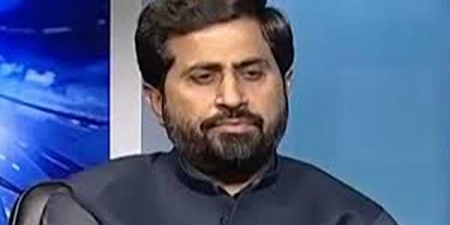 JournalismPakistan.com January 09, 2019


LAHORE – Journalists on Wednesday boycotted the proceedings of Punjab Assembly in protest against the provincial Information Minister Fayyazul Hassan Chohan's thoughtless response to a reporter's question, and demanded his resignation.
The members of the opposition in the assembly also joined the protest.
A joint action committee of journalists has announced staging another protest on Friday inside the Punjab Assembly compound.
Arshad Ansari, President of Lahore Press Club, who also heads the joint action committee, said in a statement that the minister (pictured) had joined PTI as an agent of Jamaat-i-Islami.
"The way he is continuously attacking the media shows that his agenda is to weaken the governments of Imran Khan and Chief Minister Punjab Usman Buzdar."
He said that Chohan especially wants closure of the news organizations in Punjab. But he warned that journalists would counter any such move.
The journalists also called for the resignation of Chohan as they chanted slogans. Provincial ministers Chaudhry Zaheeruddin and Samiullah Chaudhry later assured the protesters that Chohan would apologize for his remarks inside and outside the assembly.
During a memorial reference for late Qazi Hussain Ahmed on Tuesday, a journalist requested minister Chohan to respond to the Jamaat-e-Islami (JI) chief's statement alleging that PTI promise of turning the country into a Medina-like state is baseless as the government did not even take a single step in that direction.
Chohan, rather than responding to the question, lambasted the journalist, saying he should feel ashamed for having asked such a question.
"Media should not be an unguided missile. They should know what to ask and where to ask," said the minister. "It should not ask questions which can raise conflict."
Photo courtesy: Daily Times