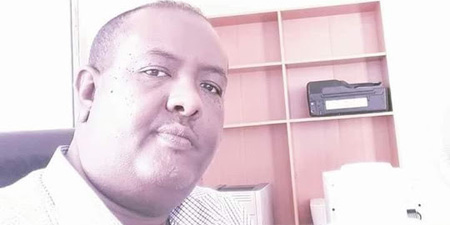 JournalismPakistan.com December 05, 2018


BRUSSELS - The International Federation of Journalists (IFJ) has joined its affiliate the National Union of Somali Journalists (NUSOJ) in strongly condemning the attempt of assassination of journalist Ismail Sheikh Khalifa, who survived after a bomb attached to his car exploded in Mogadishu, on 4th December.
The IFJ and NUSOJ have also demanded a full investigation into this criminal act.
Ismail Sheikh Khalifa is a veteran radio journalist, working as a freelancer. He is also a media rights activist, Chairman of Human Rights Journalists (HRJ) NGO and a university lecturer.
His vehicle exploded at around 4:00 pm local time in Mogadishu's Waberi district. According to NUSOJ, an improvised explosive device was attached to his car. So far, there has been no claim of responsibility for the attack.
The journalist survived the explosion and was immediately taken to Erdogan Hospital in Mogadishu. Medical staff reported to NUSOJ that Khalifa's health is now stable but that he had "serious blood loss" and "serious wounds isolated to the abdomen and the back."
Omar Faruk Osman, NUSOJ General Secretary, said: "We are very disturbed by this senseless attack on the life of Ismail Sheikh Khalifa, and he has our full solidarity. Somali authorities must investigate this cruel attack and ensure all those responsible are swiftly brought to justice".
Anthony Bellanger, IFJ General Secretary, declared: "We are deeply shocked by this violent attack. Full light must be shed on this aggression including a full investigation by the police. There is no place for impunity. The government must ensure that the perpetrators will be brought to justice and do its utmost to secure journalists' safety in Somalia". – IFJ media release